Hello peeps -
it's
Cathy(Kraftykoolkat)
here, with a great new challenge for you,
but first let's see who won last week's fabulous prize from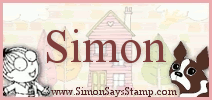 Random org has done his magic and has selected
16 - Rachel Macleod
Congratulations....
please email us (addy is on the side bar )
so we can arrange to get your prize out to you -
and don't forget to take your winner's banner from the side bar/ *************************************************
Now, on to this week's challenge and I have chosen the theme

Make You Own Flowers
---------------------------
This week we have two fabulous sponsors -see what I do for you!!!!
Our first one is a new one to us:-
Redonkulous Designs
Here is a little bit about them:-
Redonkulous Designs is a new store that opened up Sept. 2011. The owner and artist behind the store is

Sheryl Brown

, who is
a wife, a mother, and full time Senior Illustrator. She studied animation and fine arts, and has spent 10 years of her career designing characters and working on several television shows.
Her style of characters are inspired by Disney, Warner Brothers, DreamWorks, family, and her own personal experiences which are reflected in her store. Redonkulous Designs is filled with cute, and funny high quality images that appeals to a wide audience! The beauty of her store is her attention to her fans' input, which helps evolve her designs to
accommodated a broad spectrum of themes.
If you enjoy Redonkulous Designs' artwork and images, become a fan on her Redonkulous Designs Facebook Page and flaunt your Redonkulous creations!
Prize:
24000 Redonkulous reward points for the winner of the challenge. It's the equivalent of 3 digis, or can be used for clipart, or papers.
Our second one is:-
Delicious Doodles
The prize is Four Digi's of the winner's Choice
Here is a little bit about them:-
Delicious Doodles is a relatively young company with myself, Teri, as the Sole Trader. I have doodled and sketched all of my life, but only started selling my images in the Autumn of 2009.
I design and hand/mouse-draw all of the images that are sold in the Delicious Doodles Shop. Some are cutsie animals, some are sketched flowers, there are a few men's images, some fantasy items and also some 'darker' images featuring Vampires, skulls and Gothic stuff, something for everyone!
Delicious
Doodles
also
has
its
own
Challenges
on
blogger
and
a
shop
blog
page
featuring
inspiration
from
the
Design
Team.
I hope you enjoy using your Delicious Doodles images!
Here's some fab inspiration from our lovely DT.
Just click on their names to visit their blogs :o)