Good Morning fellow Crafters! Carol here, the dt and I would just like to thank each and every one of you that joined in last week's challenge.
Before moving onto this weeks challenge we would like to welcome the lovely
Victoria aka Angeldrummer
to our Design team :-) Welcome aboard hunny :-)
The entries are always of such a great standard! Before we get to this week's challenge, we have the winner and Top 3 to announce.
The winner, chosen my Random org is....
JACQUI P

Congratulations....
please email us (addy is on the side bar )
so we can arrange to get your prize out to you -
and don't forget to take your winner's banner from the side bar.
We always have a hard time choosing our Top 3,
but here they are, in no particular order.

1. Lena Katrine
2. Kylie Kueter
3. Tracy Payne

Congratulations ladies, please take your Top 3 badge,
from the side bar.

And now, what you're all dying to know is what the theme for this week's challenge is and I've chosen one of my favourites and that is
PINK & GIRLY


*************************************************

We have 2 sponsors this week !! :-)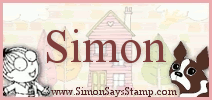 In business since 2002, Simon Says Stamp is striving to offer you the best selection of Rubber Stamps, Altered Art, Scrapbooking, Artist Trading Cards, and Paper Crafting Supplies in the world. We stock over 100,000 items in our warehouses so that we can offer you quick service and one stop shopping at a great price! We are located in Ohio, the heart of it all. Our team works hard to give you a fulfilled shopping experience and is always open to your ideas and suggestions! Happy customers are the heart of our business. We work hard to find and deliver to you the latest in stamping and paper crafting supplies! Attending classes, workshops, and sales meetings around the world, our goal is to keep our product offerings fresh and current. Make us your one stop easy shop - and we'll deliver right to your door!
And Sqigglefly who are offering a choice of
5 digi images
:-)
************************************************
HERE IS SOME INSPIRATION FOR YOU FROM OUR MARVELLOUS DT :
Victoria