Happy Friday girls
Doesn't the week pass quickly? Spring has almost sprung:)
Are you all ready for another challenge here on Totally Papercrafts? I hope so,
thanks too to everyone who played along with an Easter creation last week.
This week and our chosen theme is
It's also the time of the month where we're sponsored by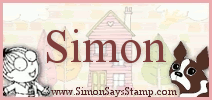 we've this gorgeous paper pack for the winner this week
7 Gypsies 6 X 6 PAPER PACK NOTTINGHILL Butterfly Flower Leaf
AND these lovely
Basic Grey Gems
I do hope you'll play along again, it's always nice to visit your
blogs to see all the wonderful talent out there in blogland.
So, here is a little bit of inspiration from the team just to get those creative juices flowing.