Challenge # 5 = Sketc
hy Time.
Good Morning All,
Tis me here this week, (Sue)
Wow we had a great response to last weeks spots challenge, it is lovely to see all your lovely creations. This week I have made a sketch for you,my FIRST one so I hope you like it !!! :-) We look forward to seeing your take on it.
Pop back later to see who the lucky winner is from the Lots of Spots Challenge, they can pick 5 digi images from
Sew Many Cards
:-)
This week's Sponsor is the lovely Heidi from
Sim
onSaysStamps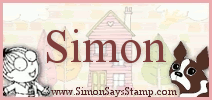 we have this gorgeous stamp up for grabs, luv these Happy hoppers.

Here is the sketch :-)

,,,,and here is a bit of inspiration for you from the girls.
We look forward to seeing your entries :-) Please remember to be in with a chance to win the prize you cannot combine more than 5 challenges :-)